Excellence You Can Count On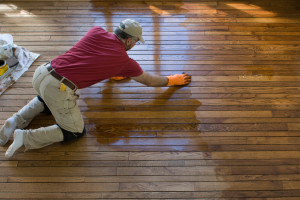 Fabulous Floors Baltimore has been providing wood floor restoration services for over 30 years. We bring you tremendous value at competitive prices. Our trained professionals are experts in all aspects of service, ensuring that every customer receives the very best services and products in the entire industry. All the employees at Fabulous Floors Baltimore are also trained in communication and customer service. Rest assured that our staff is courteous and understands your needs and how to fill them. We will continue to prove ourselves and work our very best to earn your trust.
Trained Experts
Our hardwood flooring professionals are all highly-qualified and trained in wood floor restoration services, including resurfacing, repair and refinishing. With our services, it's our experience and expertise that makes all the difference. We can ensure a quality restoration and custom finish that will last for years to come. We have the unique position of being able to pay attention to detail and spend that quality time on your floors that our customers deserve, yet still completing most projects within the estimated window. Plus, we have a reputation for providing stunning work while maintaining the most affordable prices possible. We understand that you want to save money and we strive to deliver a completely honest quote that will earn your business!
At Fabulous Floors, we're confident that our talent outweighs any other flooring company in the area. Whether it's a complete hardwood floor refinish or a simple resurface, we create customized solutions to meet even the most demanding requirements of each job. We treat every floor we work on as if it were our own. Every day we challenge ourselves to be excellent and provide the best service from the best flooring company in the Baltimore area.
Dedication and Loyalty
We are completely dedicated to our customers. We use only the highest quality and longest-lasting products for every project. Some hardwood flooring companies cut costs by using low-cost, inferior-quality products and cut corners by using the minimum amount possible. We don't believe in that, and will never do that. We have worked hard to contract suppliers that are using the same dedication to quality and service that we exhibit on our own end so we can trust the products to deliver the quality we like to use with our customers. We do not skimp on any materials; we do not skimp on any aspect of your flooring project – you have our word.
We're here to be your guide to a fresh new look in your home. We'll help you choose a stain from a wide array of colors, be honest about the work, and dedicate ourselves to helping you achieve your home improvement dream.  We work with the ultimate goal of achieving your total satisfaction and will go to the extreme to ensure your hardwood floors are the pride and joy of your home.
| | |
| --- | --- |
| | Call today and see why Fabulous Floors Baltimore is your source for high quality, affordable hardwood flooring services! |